"Remember your leaders, who spoke the Word of God to you. Consider the outcome of their way of life and imitate their faith."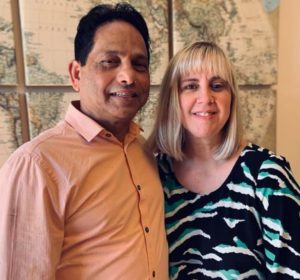 Velters Berkeley Lead Pastor
Pastor Velters is the Lead Pastor of International Christian Center. He was born in Calcutta, India and saved under the ministry of missionaries Mark and Huldah Buntain. Since the age of 12, he has been consumed with a passion to see lives touched and changed for eternity. He graduated from Central Bible College in Springfield, Missouri, and moved to Sacramento after he and his wife, Carol, were married in 1990. They have been involved in many ministries and church-plants since that time. In 2011, they planted International Christian Center to reach the community of Elk Grove. Pastor Velters cares for every member of his congregation and wants to inspire people to pursue God.
Dean Bays Executive Pastor
Pastor Dean is the Executive Pastor at ICC. He oversees the staff and ministries, and coordinates the week-to-week operations. He received his Bachelors of Theology from Trinity College and Seminary. He has been in full-time ministry for 20 years, serving in Missions, as Children's and Families' Pastor, as Worship Pastor, and as Associate Pastor. He has a passion to build teams, encourage people to believe in the impossible, and impact our communities. He also serves alongside his wife, Brittany, in ICC's Worship Ministries, playing keys.

Brittany Cody-Bays
Worship &
Creative Arts Pastor
Pastor Brittany is the Worship and Creative Arts Pastor at ICC. She joined the staff here at ICC in 2016 after graduating from William Jessup University with her Bachelors of Music. She has a passion for creating atmospheres for anyone to worship God and regularly leads ICC in worship with her beautiful voice.

Gary Crotwell
Serving Pastor
Pastor Gary is the Serving Pastor at ICC. He earned his Bachelors in Theology from Pacific Coast Bible College and, later, his Masters Degree from Southwestern University. He oversees ICC's Deacons' Ministries and serves in a vital role playing guitar in Worship Ministries. He has been involved in ministry for over 30 years and has a passion for the community of Elk Grove.